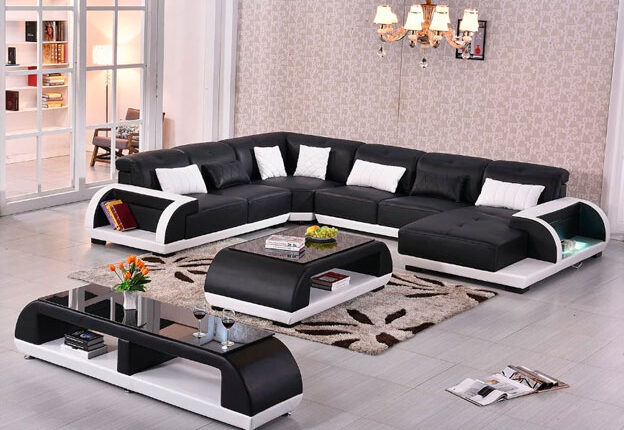 Tried & tested tricks that may help your sofa last forever
Sofa sets are one of the most important pieces of furniture in our home. Undoubtedly, you will buy the best sofa set with the latest sofa design for your dream home. You will be spending the majority of your time on the sofa set, whether watching a movie or your favourite TV show with your family or inviting your friends for FIFA.
There is always an emotional attachment between you and the sofa set; hence you would like to take this relationship one step forward by taking care of the favourite furniture inside your house.
Today, we will discuss some of the best tricks which can help your sofa last forever. Sounds interesting? Here we go!
#1: Keep Your Sofa set away from direct sunlight:
Sunlight and sofa sets are not the best combination; hence you have to keep your sofa set away from sunlight. Firstly, sunlight can damage the material and can also disturb you by poking brightness on your eyes. Secondly, direct exposure to sunlight can fade the colour of the sofa; hence your sofa will be old after a few months of purchase. You can better add a curtain to the window where you will place the sofa and close it during peak sunlight.
#2: Keeping your sofa in the best condition:
If you have an intended seat in mind, you must go for the opposite to increase the lifespan of your sofa set. If you constantly sit on one side and avoid the other, you will find the side becoming uncomfortable and hard due to overuse. On the other hand, you will also find a lot of dirt getting clogged on one side.
Sitting on one side can also have an adverse impact on the sofa design; hence you will have to ensure you change your sitting on a regular basis. If you live with friends or family, you can also encourage them to do so as it will balance your sofa and promote its health. In addition, you have to reduce the time you spend on the sofa to increase your health.
#3: Importance of cleaning leather sofas safely: 
If you have invested in a pure leather sofa, you will have to ensure that you regularly clean the sofa to keep it in the best possible condition. Most of the people who have leather sofa sets love to use their own sofa cleaning solution by combining white vinegar and water in equal proportions.
You can also do the same and reinvent your own cleaning solutions for your lovely leather sofa set. However, you can also go with commercial leather cleaning solutions, which can also be quite affordable, and you can find them in your nearest hardware or departmental store.
When you are cleaning the leather sofa, ensure that you keep the surface damp and not wet! We repeat not to get wet! Use a soft cotton cloth and rinse it well before starting your cleaning session. Doing so will reverse your cleaning session, and you will end up harming your beautiful leather sofa.
Why Should You Respond to stains on the leather sofa ASAP? 
Apart from regular maintenance, you will also have to ensure that you clean it immediately if something spills on your sofa. Removing stains from leather sofas can be quite daunting, and your sofa might end up with its beauty because of the stain.
If your kid loves acrylic artwork, try to keep him away from the sofa set and also train your pets not to climb on the sofa. Moreover, you can also try to follow a habit where you have to take responsibility to check the sofa seats for stains every night and eliminate them before dawn. As mentioned above, if you cannot remove the stains using a dry cloth, you can go with a commercial leather stain remover, or you can create one at your home.
#4: Fluff cushions regularly: 
Well, fluffing your cushions is possibly the easiest sofa maintenance tip that you will find on the internet. Not fluffing your cushions can make them hard; hence you have to fluff them to keep them soft as cotton. You have to pick them prod and poke them and place it on the sofa. We guess you might be doing this with your bed pillows as well. If you wanna skip this, you can simply flip the cushion, and you are all set to go. At the same time, you can also shop for cushion covers to protect your sofa cushions from getting dirty.
#5: Covering the sofa during social events: 
The chances of stains on your leather sofa would increase when you have a lot of people in the house. One of the best ways to protect your sofa from stains is to cover it or move it into another room if your guest doesn't feel uncomfortable. You can get a lot of sofa covers, and that will be fine to keep your sofa free from stains.
Unlike any other furniture, leather furniture needs cover when not in use. You can drape your old bed sheet when going for a trip to protect it from rats, dirt, debris, and sunlight. One of the best advantages of covering your sofa is that cleaning will become easier when you return.
#6: Are Vacuum cleaners safe for the sofa? 
To make sofa cleaning easy, all you have to do is buy an upholstery attachment for your vacuum cleaner. To keep your sofa like new, you will have to vacuum it once a week to remove all the dirt and debris. Vacuum the surface, armrest, and cushions, and even surrounding air as it can settle on the surface.
Keeping the sofa-set healthy for life-long is what we all want. Hence it is important to take care of small errors like not keeping heavy objects on the sofa and not sitting on the armrest can play a huge role in the sofa's age. Ultimately, do not forget to clean your sofa set once a week.