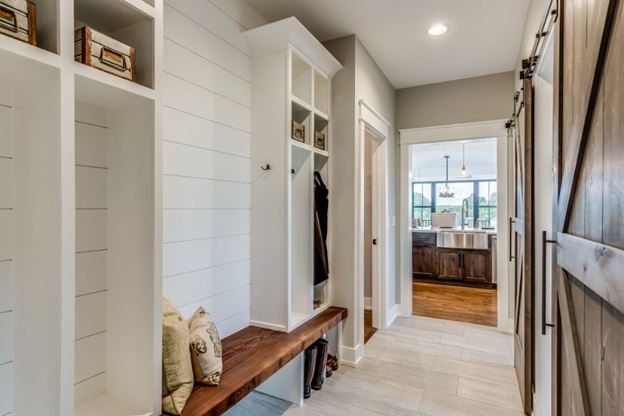 Tips For Remodeling a Mudroom
Have you been dreaming of a mudroom? Does your mudroom need an upgrade? Do you need more storage and functionality in this space? Remodeling a mudroom can be a fairly simple task and doesn't have to break the bank. Depending on your situation you could even potentially add a mudroom to your home. This is an area of the home that is easily forgotten but serves a huge functional purpose, especially for those that live in an area with harsher seasons. If you are remodeling your mudroom, plan it out as best you can with your budget and these key components in mind. As with any remodel project, consult the help of a professional company that can help you navigate these main points.
Storage
A mudroom is a great place for additional storage. This can be a very functional family-friendly spot if it is planned out well. Consider bench seating for the convenience of taking off shoes and winter gear or even setting down a bag. You can utilize this space for additional storage under the bench seat. In addition to the bench seat, you could put cubbies above the space which can be used for individual storage for each person in your family.
Open or Closed off
Depending on your space placement and how you use it, you may want the mudroom closed off or keep it open for an open-flow concept. This is mostly decided upon because of personal preference. If it is a high-traffic area, you might want it closed off. If you are wanting to incorporate the ability to have it open or closed you can use a sliding barn door. This can help you determine if you want an open concept or closed concept depending on the day, season, and condition of the mudroom. During the holidays this can be especially helpful if you are hosting company.
Aesthetics
Dallaire Realty in Green Bay offers this advice: Visual aesthetics are everything when you are working on a remodel. Just because it is called a mudroom doesn't mean it can't look beautiful. If there is an option to have natural lighting, use it! Natural lighting is everything when it comes to opening up a space. Keep the room coloring light and the decor minimal. For flooring consider a darker color that will help hide the dirt. You can do some kind of accent wall or wainscotting.
In Conclusion
A mudroom can be created in almost any space. You don't need the entirety of a whole room. Using built-in shelving with cubbies and a storage bench can help create your functional space to enter from the elements. Take all of these things into consideration as you begin your mudroom design. Even though this can be a small space remodel, get the help of a professional company that can help you have a successful remodeling experience.