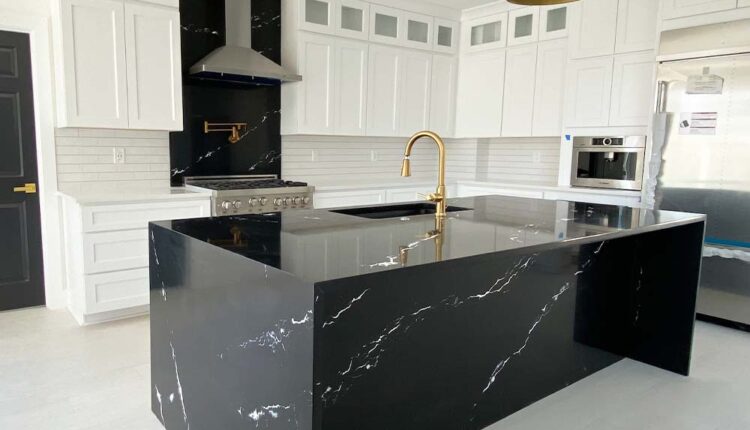 The Rudimentary Merits of Installing Black Quartz Countertops
Kitchen countertops, whether for a large or small project, can be the focal point of a kitchen remodel. Your countertop selection can frequently make or break the eventual result of a re-design. Black quartz countertops are a common choice for during a makeover. Quartz stone has a devoted following among both homeowners and professionals.
This engineered stone is coveted not just for its beauty but also for its low maintenance and tough-as-nails durability. It's a terrific alternative for homeowners with busy kitchens who are concerned about scrapes, imprints, and discoloration on their countertops but still want the beauty of real stone. Quartz looks like natural stone but also has several advantages. Here are some of the reasons why engineered quartz is a good choice for your home.
Increased Property Value and Resale Appeal 
Purchasing black quartz countertops can greatly increase the value of your home. Black quartz countertops are a major selling feature for potential homebuyers who are drawn to kitchens and bathrooms with modern, high-quality finishes. Black quartz's visual appeal, durability, and low maintenance add to an overall positive image, making the property more appealing in the market. Furthermore, because black quartz is a sought-after material, it can distinguish a property in terms of style and refinement.
Black quartz's timeless character assures that it will remain desirable to future homeowners, adding long-term value to the house. Installing black quartz countertops is an investment for people considering the resale value of their houses. This not only improves daily life but also increases the value of your home. Therefore, if you choose to sell your home in the future, you can sell it at a price higher than the market value.
Color and Pattern Consistency
The homogeneity of hue and pattern is one distinguishing feature of black quartz countertops. Unlike real stones like granite or marble, which have inherent variances, black quartz has a constant appearance over the entire surface. This consistency is widely desired in modern design, as it provides a clean and polished appearance that helps to the overall coherence of the area. Black quartz's consistent color and pattern make it simpler to coordinate with other elements in the area, such as cabinetry, flooring, and backsplashes.
This consistency improves the aesthetic appeal of the area, resulting in a smooth and harmonious design. Furthermore, the lack of diversity in color and pattern provides for greater flexibility in picking complementing or contrasting pieces, offering homeowners and designers additional design possibilities.
Timeless Elegance and Versatility 
Black quartz countertops have a timeless beauty that works well with a variety of design types. Whether you want a traditional, contemporary, or even an industrial style, black quartz blends into a variety of palettes. Its neutral and classy tone serves as an adaptable backdrop, allowing you to experiment with different color schemes and design elements throughout the kitchen. Black quartz's sleek, polished surface gives a sense of sophistication to any setting.
It easily boosts the overall aesthetics of the room, making it a popular choice for homeowners and designers looking for high-end and long-lasting countertops. Because of their adaptability, black quartz countertops can resist changing design trends, giving a long-lasting and beautiful foundation for your home. This means you don't need to keep renovating your kitchen every year.
Kitchen Heat Resistance 
The kitchen requires endurance and toughness from its surfaces, and black quartz countertops excel in meeting these requirements. Quartz is a naturally heat-resistant substance. This implies that black quartz countertops can survive the rigors of having hot pots and pans placed directly on their surface without being damaged. The durability of black quartz shines in a kitchen environment where actions such as chopping, slicing, and food preparation are routine.
Because of its stain resistance, common kitchen chemicals, including oils, acids, and sauces, do not permeate the surface. This feature not only retains the countertop's visual appeal but also increases its longevity, making it a wise investment for homeowners looking for a long-lasting and fashionable kitchen countertop.
Low Maintenance
Quartz countertops are known for their low maintenance in general, and black quartz is no exception. Natural quartz crystals are combined with resins and pigments to create a surface that is very resistant to scratches, stains, and damage. Because of their tough construction, black quartz countertops are perfect for high-traffic areas such as kitchens, where spills, chopping, and heavy use are prevalent. Furthermore, because black quartz is non-porous, it does not absorb liquids or retain microorganisms.
This makes it extremely hygienic and simple to clean. To keep its flawless appearance, a simple wipe with a little detergent or a mixture of water and vinegar is generally adequate. Black quartz's low maintenance needs add to its attractiveness, especially for busy households or individuals who desire a hassle-free and sanitary countertop choice.
Why Should You Use Black Quartz?
You now understand why quartz countertops are so popular. But why go with black quartz? It may appear that black quartz is a dreary choice for your countertops. However, this is not the case.
In reality, there are many different types of black quartz available for your kitchen countertops. For instance, you can pick the Tuscan black quartz if you're looking for something with dark charcoal surface features. This is the best option if you want to contrast your light-colored kitchen cabinets. If you want something veined, textured, or smooth, you've come to the right place.
There are numerous alternatives to a typical black quartz countertop, each as distinct and stunning as the last. You may add character and flair to your home by selecting black quartz that complements your taste. Consider a magnificent and dramatic appearance for your kitchen, all with the maintenance-free, long-term usefulness and durability of quartz.
Endnote
Black quartz countertops combine ageless elegance, durability, low maintenance, constant aesthetics, and higher property value. These advantages distinguish black quartz as a standout choice for homeowners and designers looking for a classy and functional surface solution for kitchens and bathrooms. Black quartz countertops provide on numerous fronts, whether you prioritize beauty, utility, or investment value, making them a top contender in the field of interior design and home improvement.