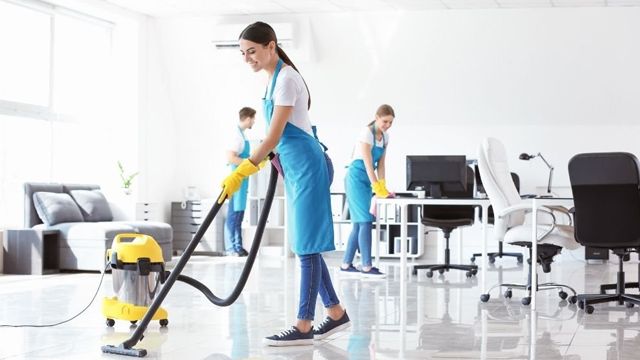 The 6 Crucial Tips for Starting a Commercial Cleaning Franchise
Everyone has a career goal that they are striving toward. Some people prefer to spend their days creating art, while others prefer to make money. Regardless, most of us have one trait: we desire to be our own bosses. When you start researching how to establish a cleaning business, it's easy to become overwhelmed by all of the information, prices, danger, and paperwork involved.
A franchise, on the other hand, combines the best of both worlds. A franchise allows you to become a business owner but with much less effort and risk. Starting a commercial cleaning franchise allows you the freedom to become a business owner while also providing you with the support of a larger organization. If that's the path you choose, these pointers can help you get started.
Points to Consider When Starting a Commercial Cleaning Franchise
A franchise, without question, is a more structured approach to establishing a commercial cleaning business. However, there are ways to make it a better success from the start.
Create a Budget from the Word Go
Like any other business owner, a franchise owner must understand how to operate a budget. This should be one of your initial actions in starting your new commercial cleaning franchise. Establish a budget for expenditures like staffing, supplies, transportation, and so on. Arrange them in a style that is easy to follow and will help you run more efficiently.
Too many business owners put in the effort to create a budget only to abandon it because they don't manage their spending. Keep in mind that your franchise can have useful resources for this reason. The larger organizations you work with are industry specialists; therefore, they know and understand how much you should spend on various elements of your organization. Using what is available is an excellent strategy to ensure you are ready.
Select Your Franchise Wisely
Cleaning franchises are not all the same. Some are less expensive than others. Some offer excellent support to franchisees, while others leave you to fend for yourself. You want to locate a franchise that sees its franchisees as partners rather than employees or sources of cash. This will allow you to find a franchise that values you and is more aligned with your career ambitions.
Remember that the name of the franchise will also apply to your new firm. Choose a franchise with a good reputation among its clients. Don't lose sight of the future, and ask yourself a few questions. Is there a set of rules that franchisees must follow? Do they have high expectations of their franchisees?
This will safeguard your company's reputation in the future.
Use Available Resources
Starting a cleaning business can be quite expensive. Owners must typically pay for marketing services, print costly pamphlets and forms, purchase or lease office space, and other expenses. In many circumstances, new business owners require the assistance of a consultant to help them get started. However, with a franchise, that work is already done for you.
Your franchise will likely have measures in place to walk you through the process to ensure you're trained, informed, and ready to go. Many also have branded marketing materials, strategy plans, and other resources. These resources and materials are among the most significant advantages of purchasing a franchise. Begin by determining what is currently available so that you do not duplicate it.
Start Small
When you first start your commercial cleaning franchise, it's easy to imagine where you want to be in the future. You may want lots of clients, a sizable staff, and, of course, more money. Although those objectives are attainable, it is critical that you begin modestly. Some franchisees try to dive right in by collecting a high number of accounts from their franchise right away.
You will suffer long-term consequences if you take on more than you can bear. You may be unable to stay on schedule, upset your consumers and lose the accounts as a result. When this happens, your reputation suffers as well. Instead, recognize that your new cleaning business is a learning experience for you.
Begin small and give yourself and your staff plenty of time to understand the ins and outs of the business. As your experience and confidence grow, you can add more accounts to increase your revenue. Your staff will also be better equipped to handle more clients.
Stay Focused
One of the most common mistakes business and franchise owners make is attempting to be everything to everyone. Even in the cleaning industry, specializing in one area is vital. Stick to commercial cleaning at first. Some people believe that adding household cleaning as an option will increase their earnings.
The truth is that focusing on a particular specialization allows you to better serve your customers. There's a reason why most cleaning franchises specialize in only one area. Trust your franchise's business strategy and become the go-to commercial cleaning company in your area.
Prioritize Your Customer Service
Every franchise is distinct. On the other hand, most commercial cleaning franchises require you to acquire your accounts from the franchise. This means you won't have to pound the pavement or take on a sales role to locate new consumers. Nonetheless, you are responsible for keeping those consumers.
Make client service a major priority from the start. Communicate with your consumers and follow up with them on a frequent basis to ensure they are satisfied with the services you provide. Everyone in your company must be involved in providing excellent customer service. Explain your expectations for how staff should deal with customers as you hire them.
Make Your Cleaning Franchise Profitable
In many ways, starting a franchise is easier than starting an independent firm. However, it is not an easy operation that takes place overnight. There are still actions you must do to ensure the success of your cleaning service. The suggestions above are a wonderful place to start.
If you're ready to start your new profession, contact our commercial cleaning franchise today to discover how to launch your own franchise.