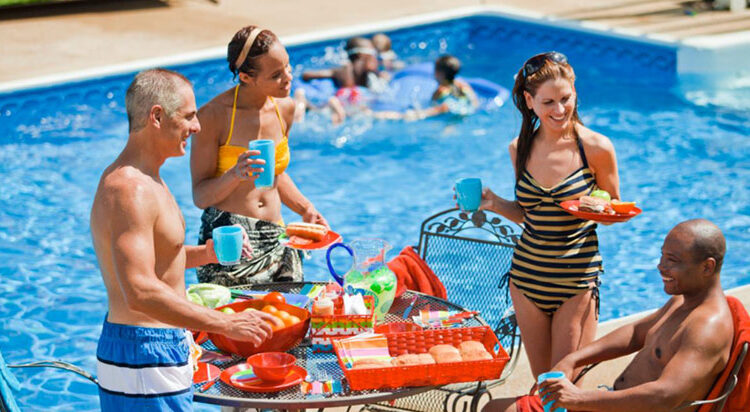 Summer Food Ideas-Getting Ready for the Pool Parties Ahead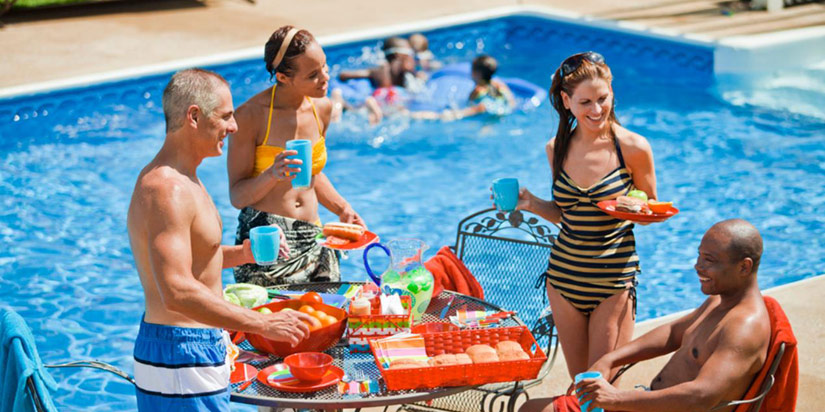 Owning a backyard pool means great chances for inviting friends over for pool parties. If you have children, the swimming pool area is a great place to host a birthday bash, or just have fun. Fibreglass pools are safe and offer a great aesthetic to show off to your friends. Nonetheless, a party is no easy task, as it involves a good amount of planning and organization. Below are some pointers for getting you party-prepped for the summer ahead. Incorporating these will make your parties hubs of entertainment and will create super memories.
Beverages and Food
Consider that you will be inviting swimmers and guests who don't wish to enter the pool. What you put out there to eat and drink should cater to both these guest categories. You may have noticed that food and beverages at outdoor parties consist of the usual suspects – hot dogs, barbecue, and soft drinks. Nonetheless, research shows that people prefer hamburgers and potato salad over hot dogs any day. As a side dish, any salad does well, but potato salad is a hot favorite. People also like coleslaw. Most guests hope for ice cream as a dessert, chocolate, and vanilla being the tastes of choice. These are the common food items on a typical menu for a fibreglass poolside party, but don't let this stop you from being innovative. There are some great food options that will make your party something to remember!
Poolside Party Yummies
When you think of food to serve at your poolside, the less that is wasted, the better it is. As a result, any dry food is ideal, or "finger food" as it is commonly referred to as. Munching on dry stuff is convenient and easy for guests, and the hosts. Hosts can relax themselves instead of rushing about to go to the kitchen or handle the barbecue's grill.
While serving beverages and foods in the vicinity of your fibreglass pool, its important to use reusable cutlery and crockery. Disposable plates, cups, forks, and spoons work better than breakable dishes made of glass or some other delicate material. Plastic is fine too. You don't want any untoward hazards around your poolside, which may be a slippery area during a party. If you do need to dash to the microwave oven to put in or pull out trays of snacks, make sure they are microwavable plastic, not glass or ceramic.
Burgers are the Best
This is a beloved snack of adults and children alike, and has a variety of eatables snuggled up between two bread buns. If you like the old-fashioned all-American style, you need a fried burger patty. Top it with a cheese slice (you can select a range, from Cheddar to a smoked variety), and some lettuce, onions and tomatoes. Pump it up with ketchup, mayonnaise and/or mustard, or just leave these for your guests to add. Burgers make great pool party food.
Here are some ingredients/toppings to experiment with so guests can make custom burgers:
Crispy bacon rashers
Sauces like Peri Peri, BBQ, pesto and chili
Red onions/ red lettuce
Cheese varieties like Gruyere, Swiss, Parmesan or Pepper Jack
Pickles and Jalapenos
Sauerkraut (yes, its good for burgers too)
Sauteed spring onions, mushrooms, or broccoli
If you really want food without fuss, try using buns that are "slider" sized. Smaller and easier to handle, these will assure you of less of a mess, plus they are user-friendly! They eliminate waste, and they're quick to eat and plunge back into your inviting fibreglass pool which was installed by the Brisbane swimming pool installer. Whoever has said that you will get ill if you eat and swim, was wrong – Duke University thinks otherwise!
Skewered Antipasto Bites
You won't believe how creative these can be! They are so easy to make and offer up a nice surprise in terms of pool party food. You can conveniently prepare these a few days prior to your pool party, freeing up time to ready yourself with other party knick-knacks. Also, assuming you may have invited some vegetarian party goers, this works in a veggie version too. Loaded with an abundance of flavor, antipasto skewers make a stunning appetizer.
This "not really a recipe" snack is something that you can just put together on a skewer. Fold cold cuts, like salami round slices, add a basil leaf, a cube of cheddar cheese, and olive, etc. Pierce these on a skewer, and your snack is ready to roll. If you don't like Cheddar, add Mozzarella balls instead. You can alter and vary the range of things you can put on a skewer. Even adding a few fruit slices in between is great, like pineapple pieces and artichoke hearts.
Perfect Potatoes
Potatoes are veggies that no one can resist. They bring versatility and you can make them edible in a number of delicious ways. You can have a scrumptious potato salad, potato wedges, or have simple potato chips served with dips, like a grated cucumber dip, garlic and herb dip, or a guacamole dip. Potatoes are a must to make your party beside your glorious fibreglass pool a success.
Mini Melts and Pita Bread
Melts are great party food that are basically open sandwiches. They look like something of a small pizza. Melts can be made on small sliced bread or pita bread in a round shape or a triangular shape. You can put anything on a melt, like tomatoes and ham, or tuna flakes, mix in mayonnaise or a chili sauce. You can add herbs like chives or parsley and top with a cheese slice and bake till browned. Pool party food made easy can consist of pre-baked pita bread slices (have a variety like whole wheat or with herbs) and serve with a humus dip.
Delectable Desserts
Create a convenient ice cream station, with a variety of three to four ice creams. You may already know what your guests prefer and include those. As a terrific twist, have different chopped nuts in bowls, so guests can choose their ice creams and top them off with these. You can have chocolate, strawberry and other dessert sauces there as well.
Simple fresh fruit, chilled beforehand, is a great dessert by itself or with ice cream. If you want to get ambitious, crush Oreos and keep aside for guests to sprinkle over ice creams. This is a fun way for people to enjoy your fibreglass poolside. An easy Madeira sponge cake is a good idea too – it blends well with fruit and ice cream or can be had on its own.
Down it All with Poolside Drinks
Offering guests of different ages and ranging tastes drinks can be a bit tricky. Nonetheless, you can keep it easy by sticking to some generally well-accepted options. Good old-fashioned lemonade is always welcome. Freeze some strawberries and blueberries and add these to a lemonade punch bowl. The lemonade will not only look good but remain cold. In case you have alcohol drinkers around, lemonade mixes well with drinks too. Think of chilled beer too. For the kids, shakes are a good idea.