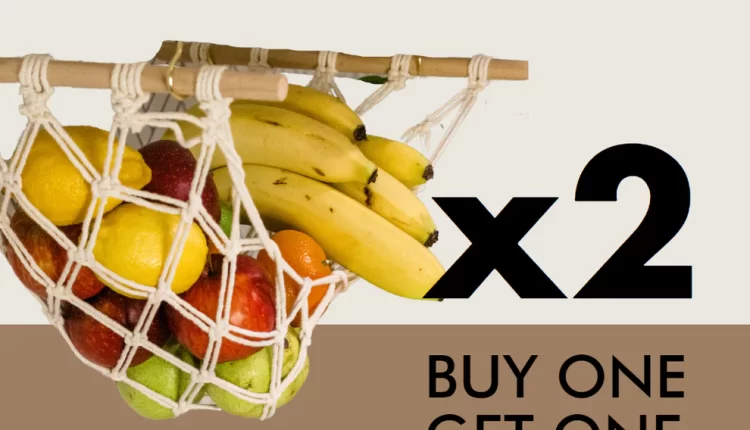 Sage and Twine Co: Elevating Your Home Decor with Macrame Fruit Hammocks
In the world of home decor, macrame is undoubtedly one of the most popular trends in recent times. A rising brand that has caught the attention of interior design enthusiasts is Sage and Twine Co, an Australian-based macrame home decor brand that has become synonymous with quality, style, and sustainability.
Sage and Twine Co has earned a reputation for being a trailblazer in macrame design, creating some of the most popular macrame styles in 2022, including the macrame hat hanger and the macrame fruit hanger. These products have become their signature pieces and have contributed to their fast-growing success in Australia.
The macrame fruit hanger, also known as the macrame fruit hammock, is one of the unique creations of Sage and Twine Co. This piece of macrame decor has become one of the most popular products offered by the brand. The macrame fruit hammock is not just a functional way to display fruits, but it is also an aesthetically pleasing addition to any kitchen or dining area. The handcrafted design provides a touch of texture, visual interest and adds a bohemian flair to your home.
Sage and Twine Co's macrame fruit hammock is made from high-quality, natural cotton rope, which is gentle on your fruit and allows for even ripening. Measuring approximately 100cm long and 25cm wide, the macrame fruit hammock is perfect for a variety of fruits such as apples, oranges, bananas, and avocados. It is simple to install, and it comes with a wooden ring for easy hanging.
Aside from the macrame fruit hammock, Sage and Twine Co offers an array of macrame home decor products. The brand introduces new collections of macrame designs every month, all of which can be found on their homepage. From wall hangings to plant hangers, their products are designed to add a touch of style to any living space.
What sets Sage and Twine Co apart from other macrame home decor brands is their unwavering commitment to sustainability and quality. They use only natural materials in their products and ensure that all of their products are ethically made. Sage and Twine Co's macrame fruit hammock is a perfect example of this commitment to sustainability, as the brand has ensured that the product is gentle on the fruit while still being environmentally friendly.
In conclusion, Sage and Twine Co is a home decor brand that stands out in the world of macrame design, and their unique macrame fruit hammocks are the perfect example of their excellent craftsmanship. The brand has set the standard for quality and sustainability, and their products are a perfect reflection of their commitment to the environment. If you are looking to add a touch of bohemian style to your home while still being environmentally conscious, then Sage and Twine Co's macrame fruit hammock is the perfect addition to your decor collection. Visit their website today to discover their complete range of macrame home decor products.