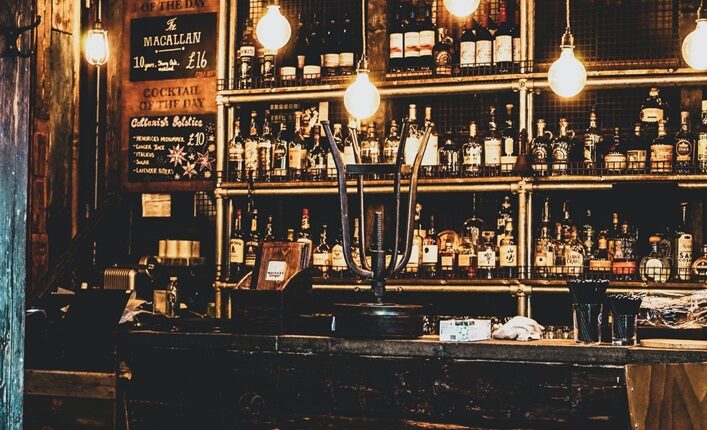 Indoor Lighting Ideas for Restaurants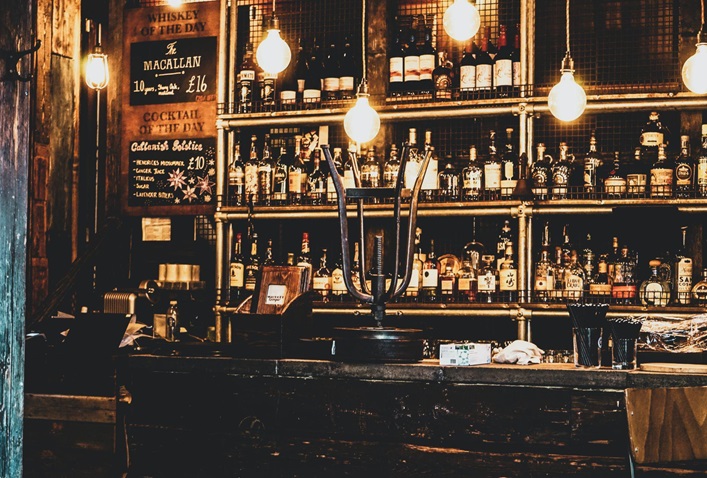 Image Source: Unsplash
Lighting and general ambience can greatly influence an individual's mood, so it's important for restaurants, diners and cafes to pay careful attention to their lighting design scheme.
When designing these spaces, you will need to consider how to achieve the perfect combination of practical task lighting to ensure the establishment is sufficiently illuminated along with stylish light fixtures that add character and look great!
Get inspired by some of these top modern lighting ideas for restaurant interiors.
Modern Chandeliers
Make a statement from the moment your customers walk through the door with an eye-catching chandelier. For a more modern look, you could opt for a cluster of pendants rather than traditional glass chandeliers.
Modern industrial chandeliers are incredibly versatile and will suit a range of restaurant interiors, especially those with a retro vibe.
Pendant Lights
For a slightly more understated yet still impactful look, pendants are the go-to option. With so many different sizes, heights and styles to choose from, there's something for every establishment, no matter your needs and styles requirements.
Pendants offer a sleek and distinct look, ideal for highlighting tables and booths.
Exposed Bulb Light Fixtures
If you want to create ambience, look no further than exposed bulb lights! Warm filament bulbs emit a soft glow, adding warmth and relaxing mood lighting to a space.
Exposed bulb pendants hanging over counters and dining tables offer a soft spotlight, creating a dynamic contrast between light and shadow. This look gives a stylish industrial edge to modern restaurants to boost a sense of unique personality.
Wall Light Accents
Wall lighting wonderfully complements your larger statement lights, tying your overall theme together for a diverse yet cohesive look.
This option is also particularly good for smaller spaces as it encourages you to make the most of any space available, highlighting darker corners and alcoves.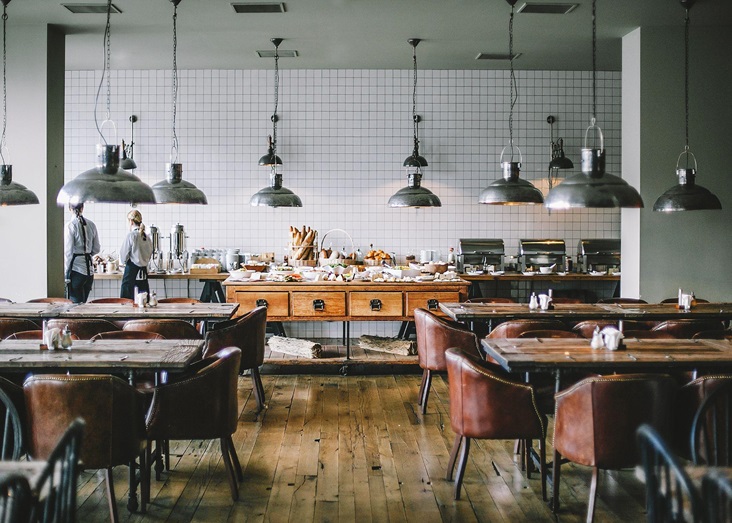 Image Source: Unsplash
Metallic Lighting
Lights with metallic shades are incredibly versatile and timeless, offering a refined and stylish look for years to come.
There are so many options when it comes to metal lighting, whether your space would benefit from incorporating pewter, copper or brass lights. Pairing the colour of the metal with the overall design scheme of your restaurant is a great way to create a welcoming space that people will want to keep coming back to.
Menu Lighting
For additional highlights, why not consider shedding more light on your menus? This could come in the form of vintage wall lights positioned directly over menus or other signs to act as the perfect blend of style and function.
Retro lights will further catch the eye of customers, so these can be a great option to draw people to particular areas of your restaurant.
Lighting is integral to restaurant design and cannot be ignored – there are so many ways to create unique and stylish restaurant interiors with just a little attention to detail!