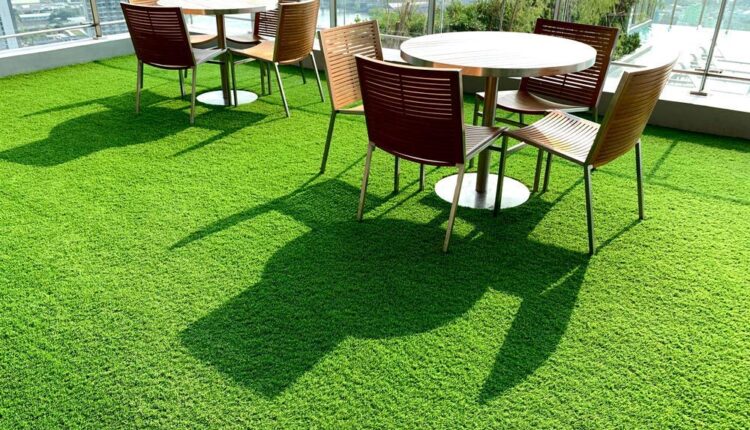 How artificial grass can enhance the aesthetic appeal of any outdoor space
Are you looking to breathe new life into your outdoor space? Have you been searching for a way to make it both visually pleasing and easy to maintain? Look no further than artificial grass. Artificial turf brings with it countless benefits, making it one of the most attractive solutions when it comes to transforming any outdoor area. From vibrant colors and lush textures to minimal maintenance requirements and long-lasting durability; artificial grass is guaranteed to take your home garden or commercial landscape design up a level – truly standing out from the rest! In this blog post we will explore how artificial grass can be used effectively in enhancing aesthetic appeal as well as providing practical applications such as ecologically friendly landscaping and safety surfacing for homes, businesses, schools, parks and sports fields.
What is Artificial Grass and why it's a great option for outdoor spaces
Landscaping is an important aspect of creating an inviting outdoor space. One way to achieve a lush green lawn without the maintenance hassles of real grass is by installing artificial grass. Made from synthetic fibers, artificial grass mimics the look and feel of natural grass while standing up to harsh weather conditions and foot traffic. It's an eco-friendly option that requires minimal upkeep, saving time and money in the long run. Plus, with a wide range of colors and textures to choose from, artificial grass can seamlessly blend into any outdoor design aesthetic. So, whether you're looking to spruce up your backyard or add some greenery to a commercial space, artificial grass is a great solution.
Benefits of Artificial Grass Including Low Maintenance
Residential artificial turf is a fantastic option for those seeking a beautiful, low-maintenance lawn. With artificial grass, homeowners can enjoy all the benefits of a lush green lawn without the hassle of constant maintenance and upkeep. Gone are the days of mowing, watering, and fertilizing, as artificial turf requires none of these time-consuming tasks. Additionally, it remains green and vibrant year-round, providing a stunning aesthetic that enhances any home's curb appeal. And while the initial cost may be slightly higher than traditional grass, the long-term benefits of minimal maintenance costs and increased property value more than make up for it. So, for homeowners seeking a lush, beautiful lawn with minimal upkeep, residential artificial turf is the perfect solution!
How Artificial Grass Can Enhance the Aesthetic Appeal of Any Outdoor Space
Artificial grass is becoming a popular option for homeowners looking to give their outdoor space a makeover. With its lush green appearance, it is a fantastic way to add a touch of nature to any space. Unlike natural grass, artificial grass requires minimal maintenance, making it perfect for those who want to enjoy a beautiful lawn without the hassle of maintenance. Additionally, artificial grass is versatile and can be used in a variety of ways to enhance the overall aesthetic appeal of any outdoor space. It is perfect for creating accent areas, pathways, or as a border around your garden or patio area. Overall, artificial grass is an excellent way to add a touch of beauty to your outdoor space without the hassle and maintenance that comes with natural grass.
Installing Artificial Grass in Your Outdoor Space
Artificial grass has become an increasingly popular option for outdoor spaces, and for good reason. Not only does it require less maintenance than natural grass, but it's also eco-friendly and looks great year-round. However, installing artificial grass is not as simple as unrolling it and calling it a day. There are a few key tips to keep in mind for a successful installation. Firstly, make sure to properly prepare the area by removing any existing grass or debris and leveling the ground. Additionally, you'll want to choose the right type of artificial grass for your space and climate, and always follow manufacturer instructions for installation. With these tips in mind, you'll be well on your way to a beautiful and easy-to-maintain outdoor space.
Creative Ideas For Decorating With Artificial Grass
Artificial grass is a versatile material that can be used in a variety of creative and unique ways to decorate your home or outdoor space. One great idea is to use artificial grass to create a fun and playful rug for your child's room or play area. Another option could be to use artificial grass as a wall covering, bringing a natural and lush feel to any room. For outdoor spaces, try using artificial grass to create a cozy and inviting seating area or as a unique and eye-catching centerpiece for your patio table. The possibilities are endless with artificial grass, so let your imagination run wild and explore all the different ways you can incorporate this material into your home décor.
In conclusion, artificial grass is an excellent option for your outdoor space that comes with many benefits and possibilities. With its low-maintenance quality and wide selection of colors, styles, and textures, it is sure to give any outdoor space the aesthetic appeal you desire. Not only that, but installing artificial grass requires less time and effort than other landscaping options which makes it a great choice for those looking for convenience. Furthermore, there are plenty of creative ideas out there if you want an extra touch of flair. We hope this blog post has offered insight into all the ways artificial grass can bring life to your outdoor space. If you're still not convinced on what type of material to use for your lawn or garden area then we encourage you to do further research and consider whether artificial grass could be the right fit. And if so, don't hesitate to reach out to one of our friendly team members today who can help walk you through this process!